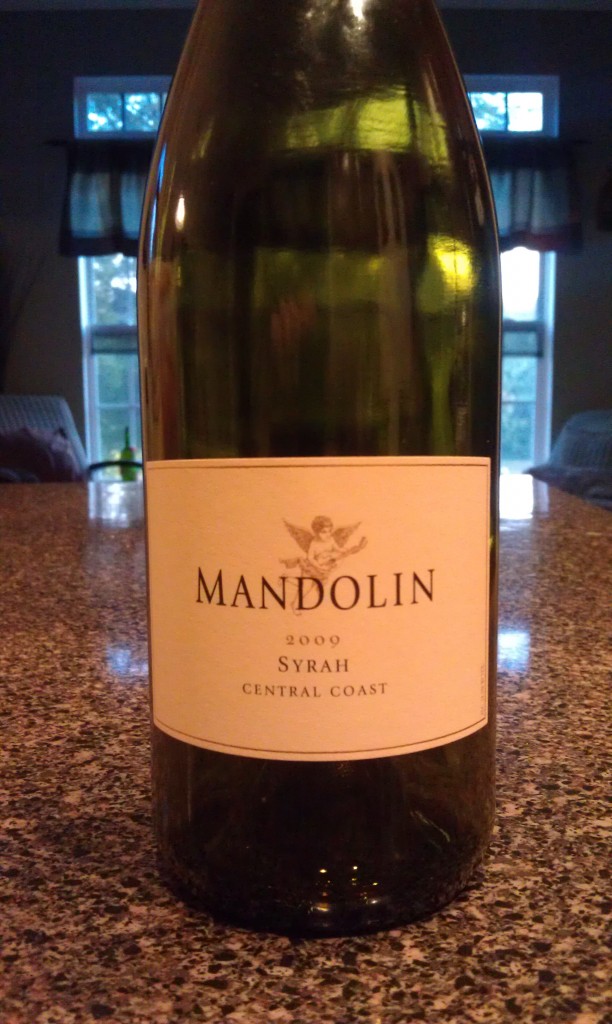 Varietal:Â  100% Syrah
Region:Â  Central Coast – CA – USA
Cost:Â  $10 (SRP)
Winemaker's Notes:Â  With its maritime influence, California's Monterey region has an extended growing season that yields wines with full flavor development and great acid balance. Mandolin Syrah has a dense core of blueberry and blackberry fruit, supported by layers of spice and rich vanilla tones.
My Review:Â Â Â Last month I was impressed by the 2009 Mandolin Cabernet Sauvignon, so when I decided to open up the Syrah last night I had if not high expectations, at least expectations to not be let down. The wine lived up to that…sorta.
A good purple in the glass, I got aromas of spice and blackberry on the nose. In the mouth blueberry and spice were most dominant, with a touch of vanilla on the finish that I almost had to look for. With a dinner of steak, crab legs, and asparagus (oppulence, I has it), the wine was serviceable, but didn't do anything to either bring out or counter flavors in the food.
The wine wasn't "bad", but neither was it something that I would go out of my way to pick up again. Maybe I had too high of hopes for it because I'd enjoyed the Cabernet so much, but the 2009 Syrah from Mandolin was just meh – nothing to brag about, but nothing to really complain about either.
I don't know that I would necessarily dissuade somebody from getting it for a party or as a different deck wine, but if you're looking for a Syrah to really knock your socks off, this isn't it. That being said, if you do want to give it a try, follow this link and you can get some shipped right to you.