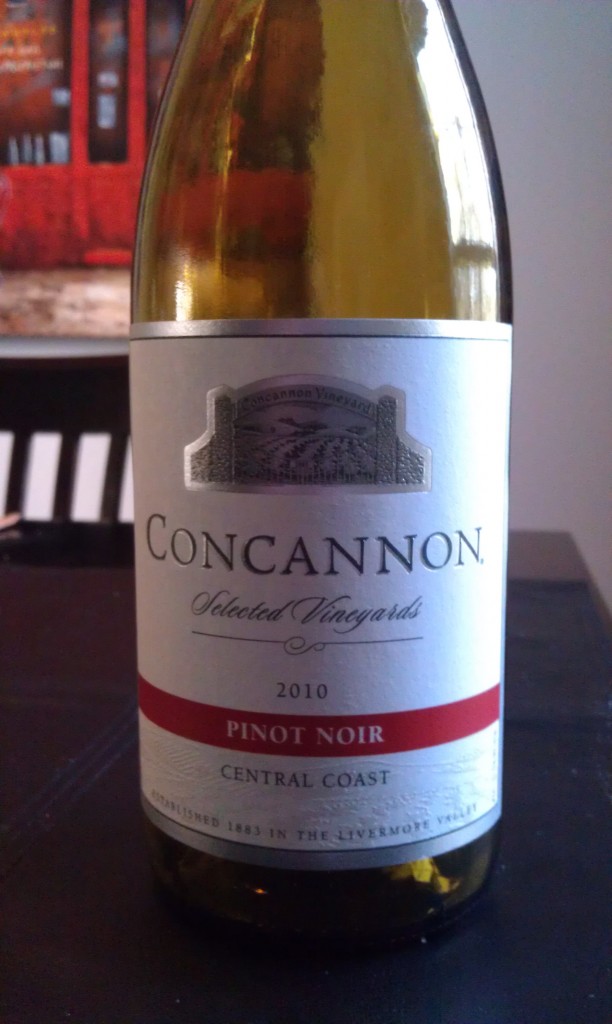 Varietal: Â 100% Pinot Noir
Region:Â  Central Coast – California
Cost:Â  $11
Winemaker's Notes:Â  A medium-bodied Pinot Noir bursting with aromas of violet, cherry, earth, and spice with an elegant and supple finish. Enjoy with macadamia-crust halibut or a decadent chocolate souffle'.
My Review:Â  I'm a fan of Concannon wines, and in fact in September when my wife and I were in California on vacation we made a point of driving out to Livermore Valley to visit the vineyard and got to sit down and spend some time with Jim Concannon which was easily one of the highlights of our trip. So when I was in the grocery store last week and I walked down the wine aisle and saw a Pinot Noir from Concannon, a varietal I'd never tried from them, I felt compelled to pick up the bottle.
In the glass the wine was fairly light, with me being able to see through it easy enough, though certainly not the lightest Pinot that I've ever seen. On the nose I got cherry and violet notes, with cherry carrying through to the palate along with a bit of cola. The wine was light in my mouth, which made it a nice pairing with some chicken out of the oven, as well as being an easy sipping wine before and after the food.
I'm not going to come out and call this a life-altering wine, but as budget Pinot Noir goes, especially from the region, it's a good table wine and certainly something I'd be comfortable sharing with friends during a party. If you want to give it a try and can't find it near you, simply follow this link and have some shipped directly to you.