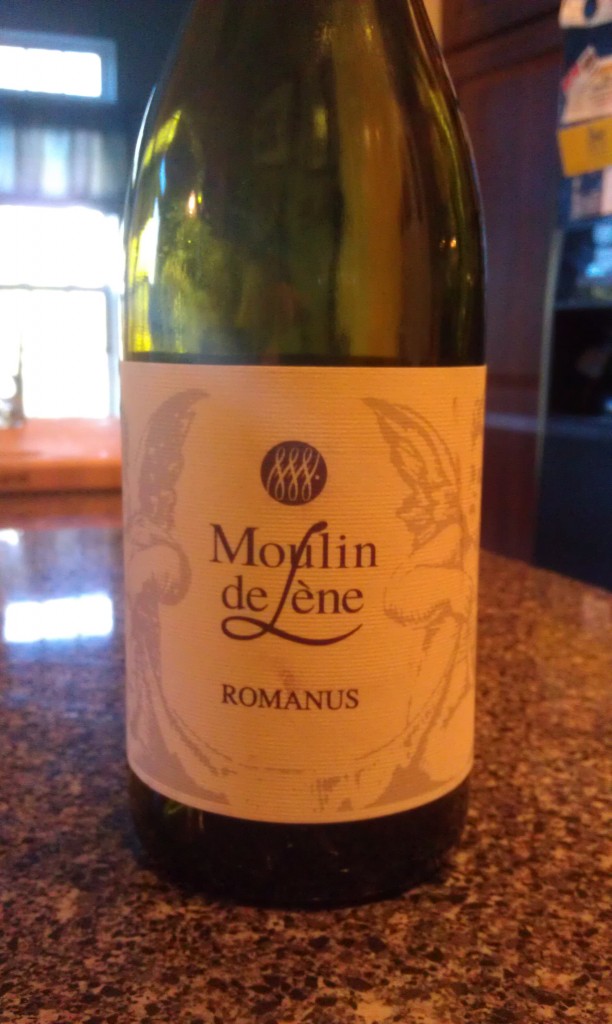 Varietal:Â  Syrah; Merlot; Cabernet Sauvignon
Region:Â  France – Cote de Thongue
Cost:Â  $15 (SRP)
Winemaker's Notes:Â  The alliance of Syrah, Merlot, and Cabernet Sauvignon gives this wine a big aromatic wealth all in delicacy. Very deep robe, with ruby glints. Powerful aromas of red fruits (raspberry, morello cherry). Spicy mouth with stewed fruits. Cacao finish. To be served with grilled meat and cheese.
My Review:Â  I've been sitting on a pair of samples from Moulin de Lene for some weeks now, not because I didn't want to try them, but rather because both called for grilled meat and between rain and the last vestiges of cold weather, I just hadn't been using my grill. That's changed in the last few days, and last night I threw some pork chops on the grill, made a side dish of potatoes to go with them, and took my corkscrew to the bottle of Romanus that had been sitting on my racks these past few weeks.
The wine was a nice deep red in the glass with a slash of violet when I first poured that quickly disappeared. On the nose I mostly got red fruit, mostly raspberry, which carried through a bit onto the palate with a hint of earthiness. The wine was medium-bodied – not too light, not too full, and had a nice cacao finish that I wasn't expecting, but rather enjoyed.
Paired with pork chops off the grill (crusted with rosemary, basil, salt, pepper, olive oil, and a touch of lemon juice) and some mashed potatoes out a package (I didn't have the patience to actually mash my own potatoes), it paired well with grilled flavors of the meat, holding up, but also providing a nice smooth finish that was well served with the pork.
I know that some people get wary around French wines, and I'll even admit to being on of them as it's an area I'm still slowly expanding my wine knowledge of. That being said, while I don't think anybody is going to call this wine a game-changer, it's certainly a nice approachable wine that would do well at numerous tables as we move full on into the grilling season.