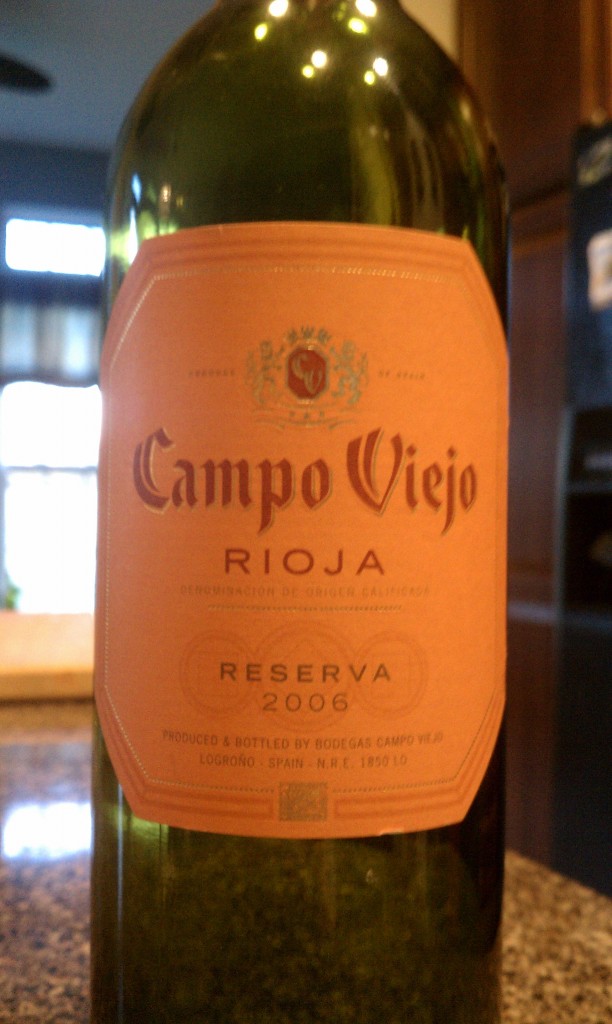 Varietal: Rioja (85% Tempranillo; 10% Graciano; 5% Mazuelo)
Region: Spain – Rioja
Cost: $14 (SRP)
Winemaker's Notes: Wild cherry, pepper, and oak aromas with soft tannins that pair well with beef, lamb, grilled foods, and strong cheeses.
My Review: Anybody that's been reading this site long enough knows that I'm a fan of Tempranillo and blends using it. Rioja was my first real introduction into Spanish wine, and I tend to hold a soft spot in my heart for the region because of that…also because they make good wines.
I'd received this bottle around the Super Bowl, and honestly it would have been a good bottle to open up with some meatballs or a good cheese platter had such a thing materialized, but with that game being shown in my house to a total of four people, my wife and I just couldn't muster the energy to put out a big spread that didn't involve some quickly made wings and beer.
However, last night we did open the bottle, though there were some hiccups along the way. Since one of the recommended pairings was grilled foods, and because I have a distinct lack of beef and lamb in my house at the moment, we decided to throw some herbs on some chicken and then throw said chickens on the grill. However, my grill was being tempramental and decided it didn't really want to heat…so the chicken ended up going into the oven.
The wine itself was a medium-dark red color with just a hint of rust color that was really only visible when the wine was swirled in the glass. The aromas of cherry, pepper, and oak were very noticeable, as was a little smoke. In the mouth, the cherry flavors carried over in what could only be described as a bright wine. A hint of smoke on the finish, along with some nice soft tannins, would have made this a great wine to pair with any grilled meat coming off my grill. That being said, it was still more than enjoyable with the chicken out of the oven.
What I liked about this wine so much was that the bright flavors made it perfect for just enjoying by itself, but also lent it a versatility to be paired with a good range of foods. If you come across this bottle and are looking to try some Spanish wine, I would definitely recommend giving it a try, and if you can't find it in your local store, you can just follow this link and have it sent right to you.