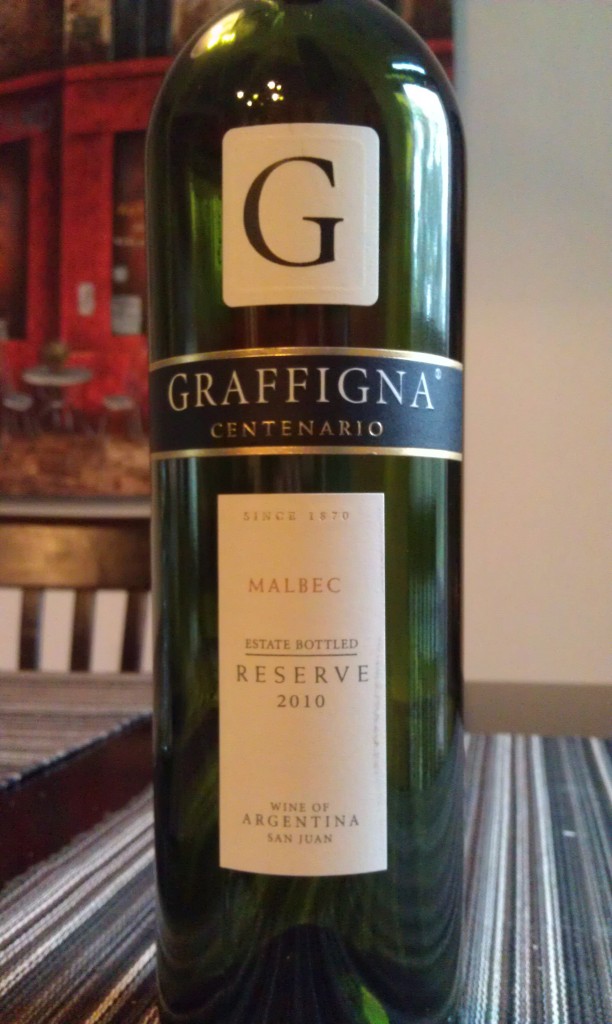 Varietal:Â  100% Malbec
Region:Â  San Juan, Argentina
Cost:Â  $13 (SRP)
Winemaker's Notes:  Dark purple and red with violet hues. The aroma is profound and fruit forward, with ripe red berries, sweet spices, and a hint of black pepper backed by toasted notes from its oak aging.  On the palate the wine is structured and balanced, with ripe tannins and fresh acidity that leads to toasted and vanilla hints on the finish. Pairs well with lamb, grilled beef, spicy food, and poultry.
My Review:Â  I've been sitting on this wine for a bit, in part because I was holding onto an illusion (or perhaps delusion) that I would eventually pair this wine with if not the venison or rabbit that was recommended to me when I received it as a sample, at the very least the osso bucco that was listed on the bottle itself. I finally came to the realization that neither of those situations was going to happen and decided to pair the wine with a steak instead.
Seeing the alcohol content on the wine (14%), I decanted the wine while my steak (and a chicken kabob for my wife) was cooking and being able to compare a small sip of the wine I took before decanting to the wine afterwards I'm glad I did and would recommend if not decanting the wine, at least giving it time to open up to take some of the alcohol note away.
The wine was a nice dark red with violet streaks through it, and on the nose I got mostly bright red fruit with just a hint of spice to it. The fruit from the nose found its way into the mouth and if not as bright as the aroma, it was still dancing the line of being fruit forward and having just enough fruit, though the oak/vanilla note on the end may have something to do with that.
Paired with a steak the wine held up well against the grilled meat, and if it didn't particularly add anything to the meal, it certainly didn't take anything away from it. I wouldn't go so far as to call this an amazing steak wine, but I would recommend it for a cook-out since it's a good value and is versatile enough to go with a lot of different grilled meats.
*Full Disclosure: This wine was received as a free sample.