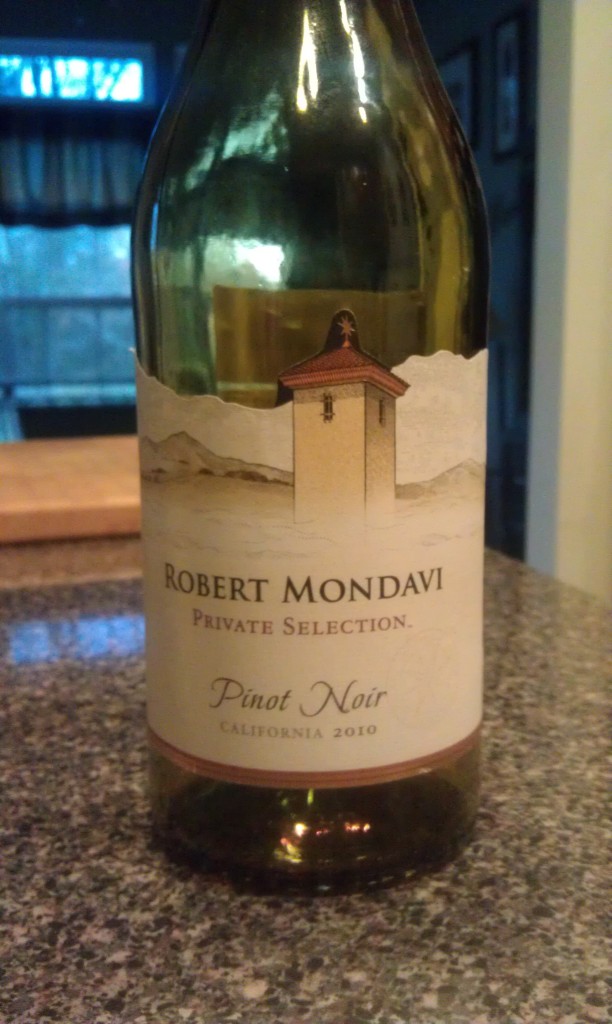 Varietal:Â  90% Pinot Noir; 6% Petite Sirah; 3% Syrah; 1% Merlot
Region:Â  California – USA
Cost:Â  $11 (SRP)
Winemaker's Notes: Â Reflecting the character of a cool vintage, which fostered the development of classic varietal aromas and flavors in our Pinot Noir grapes, this vivacious red wine's hallmark is fresh, vibrant fruit. On the nose, lovely rose petal, violet, and red cherry aromas mingle with complementary scents of smoky vanilla and nutmeg. Very soft and round with good length and richness on the palate, the wine displays supple, silky berry and cherry jam flavors. Enjoy this delectable Pinot Noir with grilled salmon, herb-roasted chicken, baked ham, or lighter pork dishes.
My Review:  So remember yesterday when I talked about the bottle of 2007 Biltmore Blanc de Blancs exploding all over my kitchen? Well, since my wife and I were making salmon to go with that, and since exploding wine meant I was really going to need a drink, we decided to open up this bottle of 2010 Robert Mondavi Pinot Noir that I had received as a sample.
A light to medium red in the glass, with hints of some rust coloring, I got aromas of cherry and spice on the nose which lead into a very smooth, almost juicy wine with flavors of berry and a touch of a cola finish that I'm finding more and more on Pinot, and that I'm finding myself enjoying quite a bit.
Paired with the salmon the wines richness was a nice compliment to the fatty fish, making the entire meal just a wonderful, rich experience. For the price this was a surprisingly robust Pinot Noir, and if you're looking for a budget wine to put out with your Thanksgiving dinner, this is certainly a good choice.
On the off chance you can't find this wine in your local store, you can follow this link and get some shipped directly to you.