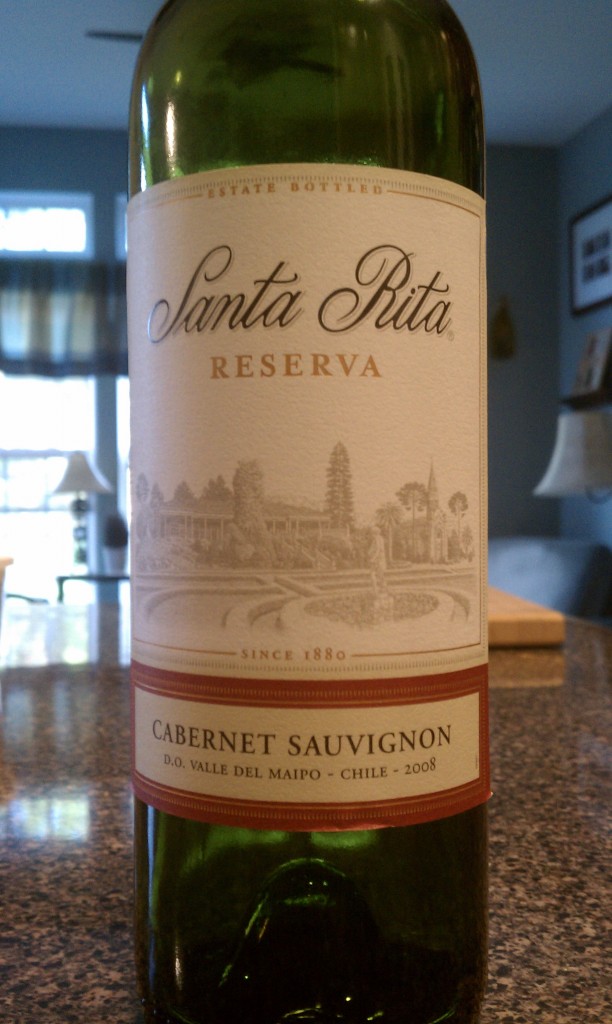 Varietal: 100% Cabernet Sauvignon
Region: Chile
Cost: $10-12
My Review: So as they are want to do, on a recent trip to my parents' house they insisted on sending home some wine with my wife and I as they are big supporters of this site and of my drinking habits. I love my mom and dad.
In the glass the wine was a dark purple color that can only be described as inky. It was so dark (how dark was it?) that the only way I was actually able to pick up some of the color was thanks to some bubbles on the surface right after I poured the wine. On the nose I got jammy aromas of dark fruit with a little spice and a smoky/tobacco note.
In the mouth the wine was medium to full-bodied with lots of dark fruit and a nice smoky finish that I really enjoyed. Paired with a dinner of some sausage tortellini (or tortelloni…it's really all the same to me to be honest) in some red sauce it really brought out the bolder flavors of the meal, though honestly I'd love to pair this wine with a steak and plan to grab another bottle in the future to do just that.
While it's certainly no secret that I'm a fan of Chilean wine, this bottle is just another example of why. A Reserve Cabernet Sauvignon for less than $15 is a value any way you slice it, and the fact that this one is full of flavors that just scream to be paired with something off the grill makes this a great wine to pick up during the summer months when the grill gets the most use.
If you can't find the 2008 Santa Rita Reserva Cabernet Sauvignon at your local store, you can, as always, follow this link and have some shipped to you.