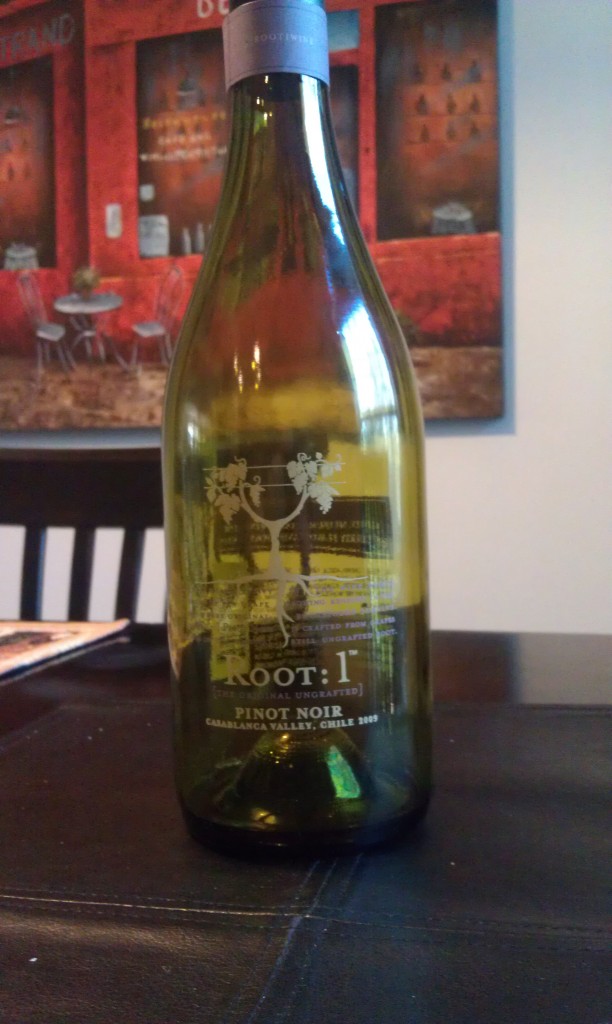 Varietal:Â  Pinot Noir
Region:Â  Casablanca Valley – Chile
Cost:Â  $11
Winemaker's Notes:Â  A lively, medium bodied wine with ripe cherry flavors and silky tannins.
My Review:Â  I've made no secret of my fondness for the wines of Chile; they tend to be a good value and the quality usually far outstrips the cost associated with having a bottle on hand. Root:1 wines in particular have been a favorite for Sauvignon Blanc and Carmenere, two varietals that have increasingly found their way onto my wine racks. So it was with no hesitation that I picked up a bottle of the 2009 Root:1 Pinot Noir when I recently saw it at a local store.
My wife and I recently decided to redo the home office in our home, and after a day of removing all of the furniture from it and putting on two coats of paint (we went with a color deep red color called Spanish Tile), we decided that dinner would be some pizza ordered from Papa Johns while we finished up some spots on the wall. All of this work also called for some wine, and I quickly decided on the bottle of Root:1 Pinot Noir I had grabbed the week before.
The wine was medium dark in the glass, still letting light through, but also darker than other Pinot Noir that I've had. On the nose I got cherry and cola notes that carried through to the palate of the medium-bodied wine. A smooth finish made this a great wine for sipping at and the more robust nature of the wine versus others of the varietal let it hold up well to pizza loaded down with meat.
I was pleased when I found a Pinot Noir from Root:1, and having tasted it I can say that it's one I imagine I'll pick up again the next time I come across it. If you've tried wines from this winemaker before and enjoyed them than there's no reason not to grab this one, and if you're a Pinot Noir fan looking for a good value, or a Pinot from a region you probably haven't tried before, than this is a good one for those reasons as well.