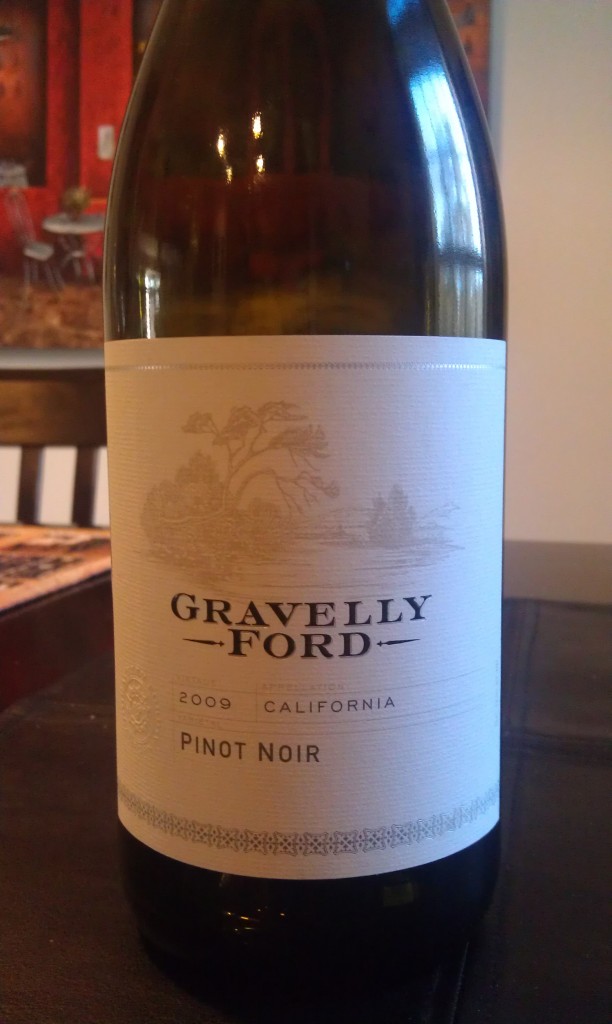 Varietal:Â  Pinot Noir
Region:Â  California – USA
Cost:Â  Approx $10
Winemaker's Notes:Â  Rich earthiness and bold robust flavors. Pairs well with full-flavored hearty meats, stews, and soups paired with rustic bread.
My Review:  You ever have one of those moments when you see a bottle of wine on your rack and have absolutely no idea where it came from? I had that moment last night with my wife when we were trying to decide which bottle of wine to open up with some chili we had made for dinner. I had no memory of the wine being purchased, was confident it wasn't a sample that had been sent to me, and didn't remember anybody bringing it over during one of our holiday parties, and it wasn't until I sat down to write this review that I realized where it came from – my wife and I did buy it at a local store that was offering a free tasting. This is what age does to you.
In the glass, after spending some time in a decanter, the wine was a medium-light garnet color. It wasn't super light, but I could still see the bottom of my glass with the wine in it. On the nose I got mostly cherry notes, though the wine didn't have a big nose even after being allowed to open up in the decanter. In the mouth I got more of the cherry notes along with some cola on the finish and very subtle hint of effervescence. It paired well with the chili, the fruit flavor actually doing a good enough job with the chili, though I think something with a bit of spice might have been even better.
To sip on the wine after we were done eating was easy enough, and while the wine certainly didn't blow me away, as budget Pinot Noir goes I've certainly had a lot worse. It didn't set my world on fire, but if you happen across it and you're in the market for a value Pinot Noir it's definitely worth giving a second or third thought to.